Eligibility Center Links
For those who want to play sports in College
---
Fall Sports
Contacts
Football – Coach Cruz dcruz05131980@gmail.com
Cheer – Coach Banaci jazmine0banaci98@gmail.com
Girls Volleyball – Coach Garcia saul_sioux@yahoo.com
Boys' Water Polo – Coach Carson, Room 904 Jonathan.carson@sweetwaterschools.org
Boys Cross Country – Coach Buse, Room 907 David.buse@sweetwaterschools.org
Girls Cross Country – Coach Montalvo – montalvo0420@gmail.com
Field Hockey – TBD
Girls Tennis – Coach Roncoroni, Room 206 pablo.roncoroni@sweetwaterschools.org
Girls Golf – TBD
Girls Flag Football – TBD
---
WINTER SPORTS
Winter Clearances Start Tuesday, October 10, 2023
Practice Starts November 4, 2023 (All Sports)
Men's Soccer – Coach Andrade victor.andrade@sweetwaterschools.org
Women's Soccer – Coach Briseño brisenoangel09@yahoo.com
Men's Basketball – Coach Selland, Room 213 sohbbman@hotmail.com
Women's Basketball – Coach Finley devon.finley22@gmail.com
Wrestling – TBD
Women's Water Polo – Coach Vazquez salma.vazquez.sv@gmail.com 
---
 SPRING SPORTS
Spring Clearances Starts Tuesday, January 16, 2024
Practice Starts:
February 3, 2024: Boys Tennis / Track & Field /Swim & Dive / Boys Volleyball
February 10, 2024: Baseball / Softball / Girls Lacrosse / Beach Volleyball / Gymnastics
Baseball – Coach TBD
Softball – Coach Russell robert.russell@sweetwaterschools.org
Boys Tennis – Coach Roncoroni, Room 206 pablo.roncoroni@sweetwaterschools.org
Boys Track – Coach Buse Room, 907 david.buse@sweetwaterschools.org
Girls Track – Coach Montalvo montalvo0420@gmail.com
Boys Swimming – Coach Carson Room, 904 jonathan.carson@sweetwaterschools.org
Girls Swimming – Coach Vazquez salma.vazquez.sv@gmail.com 
Boys Volleyball – Coach Ramirez n_a_barba@yahoo.com/Coach Pacheco adan.pacheco@sweetwaterschools.org
Girls Lacrosse – Coach Valenzuela karenailin02@gmail.com
Beach Volleyball – Coach Barba nbarba@yahoo.com
Gymnastics – Coach Wood mwood@lgagymnastics.com
---
Athletic Eligibility and Guidelines
 All  athletes  will  abide by the California  Interscholastic Federation  (CIF) rules.    For more specific information, athletes and their families can visit the CIF website at www.cifsds.org
Residential Eligibility

The CIF requires that students who participate on a school team must be living with parents or legal guardians who reside within the school's attendance.
If a student is transferring from another high school, they MUST contact the athletic director immediately to determine
Academic Eligibility

The participant must be a full-time student at their high school or middle Exception: Juniors and Seniors on graduation track may have a reduced schedule as long as the student is enrolled in 20 semester credits or otherwise satisfies CIF rules on enrollment.
Academic – Students maintain an overall GPA of 2.0, and passing 4 classes in both citizenship and scholarship based on the most recent progress report or semester grade report. Students may be required to provide a periodic grade check when requested by the coach/advisor or athletic director.
All 8th grade  students  who  matriculate  to  grade  9  are  immediately scholastically eligible for participation in athletic activities upon enrollment in high school. All 9th grade students will be granted a probationary period of unrestricted academic eligibility from the start of their first semester of ninth grade through the end of the first grading period (progress report). Students granted probationary eligibility must meet the required standards by the end of the probationary period. All 9th grade students must earn a 2.0 grade point average in citizenship and scholarship on the first progress report to remain academically eligible. Probation is for 9th grade students only.
High school athletes planning to attend Division I colleges must be sure they have fulfilled the NCAA Clearinghouse Requirements (see school counselor for details).
Students enrolled in an Independent Study Program must be residents of the district and be enrolled in an Alternative Education Program supported through SUHSD. Students are responsible for contacting their school of residency. Students will be reviewed on a case-by-case basis to determine
Athletic Clearance

No student will be allowed to practice or participate until:

Students and Parents complete the online athletic clearance process and information is verified by the athletic director.
All school and athletic debts have been
All outstanding/checked-out athletic uniforms and/or equipment is returned.
CIF Participation Data
Click to Enlarge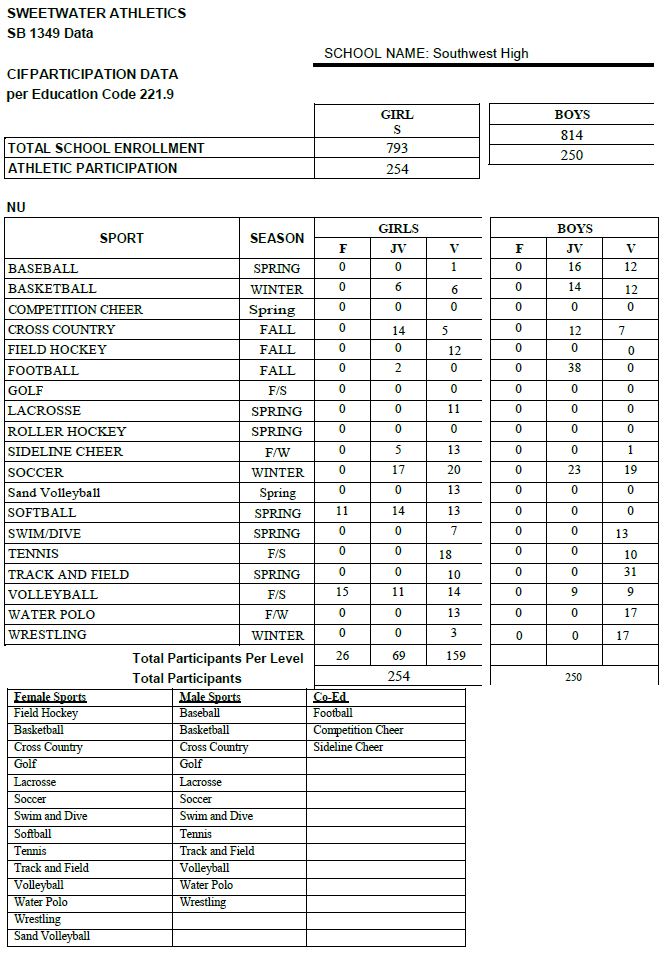 ---
Athletics Clearance Checklist
All athletes must meet the following academic requirements to be eligible to play any sport:
2.0 unweighted (GPA) in Citizenship.
2.0 unweighted (GPA) in Scholarship.
Must pass AT LEAST 4 classes (Scholarship and Citizenship)
Must meet CIF residential eligibility.
GET A CLEARANCE PACKET FROM THE ASB OR THE ATHLETIC OFFICE IN ROOM 709
Steps to get Cleared
First Sport
Pick up clearance packet from the ASB or Athletics Office.
Follow instructions to complete Online Clearance at: www.registermyathlete.com
Complete the online registration process.
BRING A COPY OF COMPLETED PHYSICAL AND STUDENT PROFILE TO DR. SNYDER IN ROOM 709
Physicals performed in Mexico are NOT ALLOWED
Second Sport
Go to your registermyathlete.com account and add a new sport.
Make sure your physical is up to date for the second sport.
Make sure that you have turned in all uniforms and equipment from previous sport.
PHYSICALS ARE ONLY GOOD FOR ONE CALENDAR YEAR NOT A SCHOOL YEAR.  PLEASE ENUSRE YOUR PHYSICAL IS GOOD FOR ALL SORTS THAT YOUY PLAY
---
Athletics Staff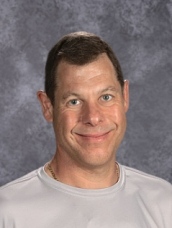 Athletic Director: Dr. Jason Snyder
(619) 628-3663
jason.snyder@sweetwaterschools.org
Follow us on Twitter @SOH_Athletics